Chitty Chitty Spud Spud
New! Season 2: Episode 1
My Garden Podcast season two. Penny's returns for a new season and gets to work chitting some Casablanca earlies. That means letting them sprout to get them stated. She also prepares a new veg box with composted horse manure. It sparks childhood memories of her dad shoveling horse sh*t off the drive. This week's guest gardener is Andy Wright from the Lodge Garden in Cheshire, England. Episode page: Gardening podcast potatoes
Springtime trim time
Season 2: Episode 2
My Garden Podcast season two. Penny tidies up a flower bed by giving her salvia bushes a trim. This week's guests are garden blogger Rebecca Schwab from New York and Hannah Powell from Essex, UK
Pyrocanthis & the cat courts controversy
Season 2: Episode 3
My Garden Podcast season two. Penny plants a new pyrocanthis hedge and her pets get involved in a garden stand-off. This week's guest is small space gardener Gabby Woodward from London. Episode page: Gardening podcast pyrocanthis
Tears and tomatoes
Season 2: Episode 4
After a failed crop of tomatoes last season, Penny decides to give them another go. This week's guest is gardener is Angi from Essex in the UK.
Spud-u-like
Season 2: Episode 5
Penny's potatoes go into the ground after a call to her dad for planting advice. This week's guest gardener is Audrey from South Wales in the UK. Episode page: Gardening podcast potatoes
Delphinium design
Season 2: Episode 6
Penny has grand plans for a growing garden bed and starts by planting out delphinium. This week's guest gardener is Shannon from New Jersey, USA.
Slug Chaos
Season 2: Episode 7
Penny is on slug patrol with her overwintered canna plants. Her naughty dog Joey gets involved with hilarious consequences. Episode page and transcript: Gardening podcast slugs.
The daphne's dead
Season 2: Episode 8
Penny's daphne shrub hasn't survived being moved around the garden. Things go from bad to worse as she realises she's bought the wrong plant to replace it.
What's that plant? Isn't it impressive!
New! Season 2: Episode 9
This week Penny is in the greenhouse potting on some nicotiana. The tobacco plant with trumpet-like flowers wowed neighbours last season.
Is that your butt?
New! Season 2: Bonus episode
Penny takes the podcast on the road to rescue a water butt!
Shopping with Monty
Season 2: Episode 10
Wine plus watching Monty Don on TV equals online herb shopping this week for Penny.
The lady at the garden centre
Season 2: Episode 11
Penny's determined to have yet another go at growing strawberries.
Lovely cosmos
Season 2: Episode 12
Penny loves cosmos, so it's getting planted out again in a bed she's prepared with the no-dig technique.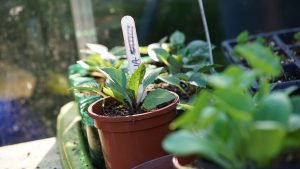 The secret seedlings
Season 2: Episode 13
A secret gardener has been growing seedlings in the greenhouse. Who can it be?
NEW! Be a guest gardener on My Garden Podcast season two
We'd love to hear about your garden, why not appear as a guest on my gardening podcast. Just record yourself as a voice memo on your phone, follow this template:
"Hi I'm (your full name) from (your town and country)" Important! Include your country.
"This week in the garden I've been... ( e.g What you are up to, what's growing, what are you struggling with). If you'd like to see pictures of my garden follow me (@your twitter account)."
That's it. Keep it short, under two minutes and then just email it to hello@bitfamous.co.uk