My Garden Podcast
Season 1: Trailer
My Garden Podcast by Penny Haslam, the have-a-go gardener. Join her for a whole summer of real gardening as she heads outdoors to explore, learn and grow.
In season one she struggles with vegetables that won't grow, sunflowers that die and a misbehaving pet dog called Joey.
Listen to more than 20 episodes of entertaining chat recorded outdoors at her home in Cheshire, England.
There aren't any latin names for plants in this show. If you are looking for professional advice and gardening tips, you are in the wrong place.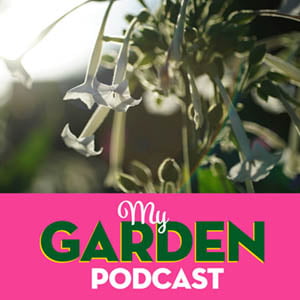 New episode :
Abandon all hope and nicotiana - My Garden Podcast
Season 1: Episode 23
"Do you need professional gardening tips and advice?
You're in the wrong place!"
Season 1: More than 20 gardening podcast episodes
Listen on your phone or device:
Please, rate and subscribe wherever you get your podcasts.
Guest blog:
Garden Fail - The Deer Blocker

Western New York, USA
"Irritate your teenagers by serving home grown veg and then repeating mmm, fresh from the garden.
"
Featured episode:Corona wildflower meadow of hope - My Garden Podcast
Season 1: Episode 11
Penny is a compulsive gardener. One afternoon her husband Steve spotted her pottering about outside and decided to pop out with a microphone. We decided to make a podcast just for the love of gardening.
Penny Haslam is a former BBC business journalist, who was a regular presenter on national television and radio - her credits include BBC Breakfast, News Channel, Panorama, Radio 4 and Radio 5Live. As well as coaching and training clients of Bit Famous, she is a professional motivational speaker on the topics of visibility and confidence. Penny is the author of the business book Make Yourself a Little Bit Famous.
Steve Blears is a former national news journalist, reporting for BBC Radio 1's Newsbeat, Radio 5Live and Radio 4's Today. He is now a seasoned TV director and producer, with credits for prime time shows on Channel 4, BBC, UKTV and Sky. He is the producer and editor of this podcast series plus our other podcast Make Yourself a Little Bit Famous.